In September 2019, Apple ushered in a new era for iPhone users with the release of iOS 13, a robust update that brought a plethora of features and improvements to the beloved mobile operating system. Packed with both aesthetic refinements and functional enhancements, iOS 13 aimed to elevate the overall user experience on iPhones. From the introduction of the sleek and immersive Dark Mode to the privacy-centric Sign In with Apple, this update showcased Apple's commitment to innovation, performance, and user satisfaction.
In this exploration, we delve into 13 standout features that marked iOS 13 as a milestone in the evolution of iOS, transforming the way users interacted with their devices and setting a benchmark for future iterations.
Here are Best iOS 13 Notable Features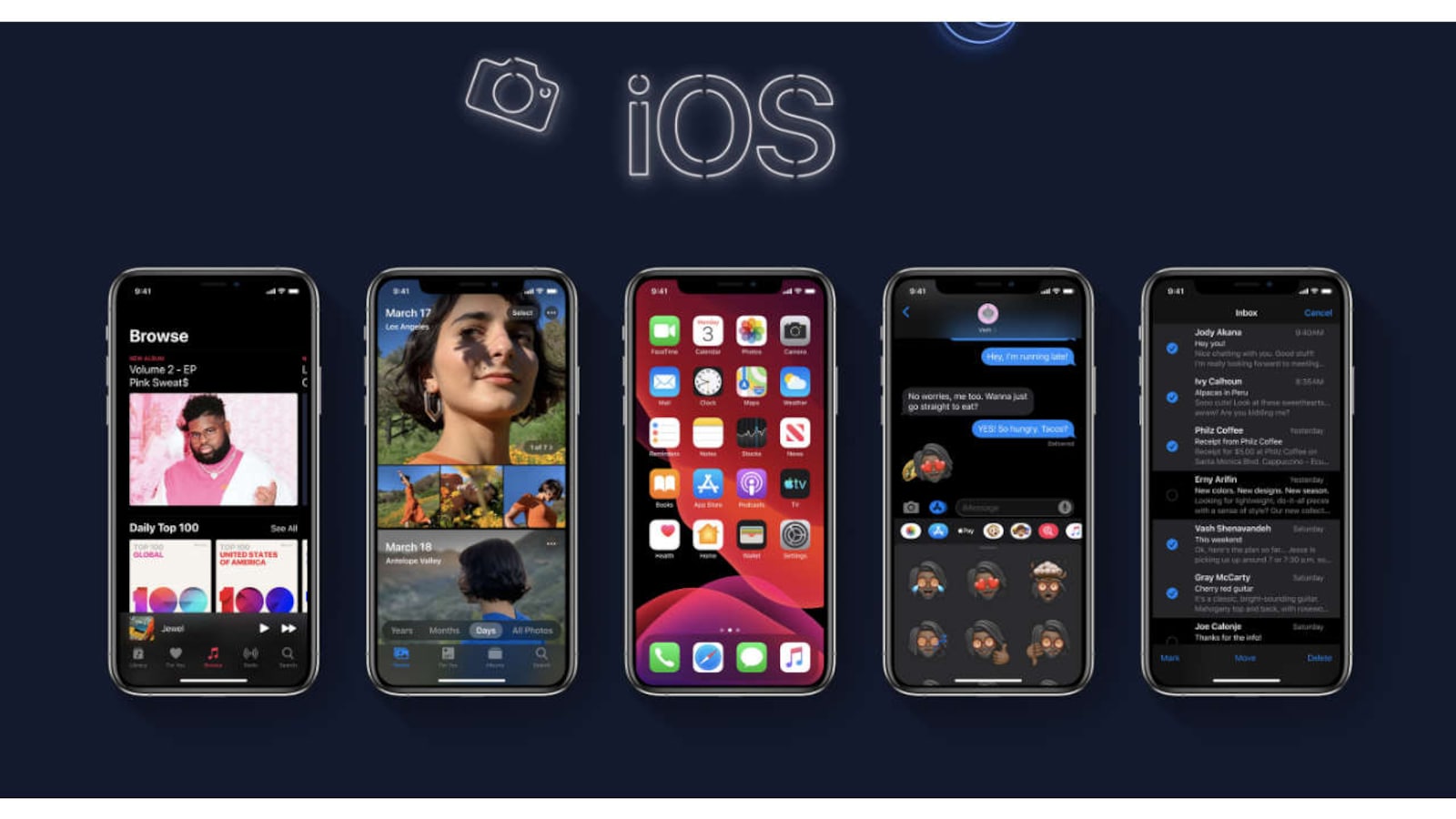 iOS 13 brought several new features and improvements to iPhones.
1. Dark Mode in iOS 13: A Stylish Shift Toward Elegance and Comfort
iOS 13's Dark Mode is a visually striking feature that introduces a sophisticated, darker color scheme to the iPhone interface. Beyond its aesthetic appeal, Dark Mode enhances comfort in low-light environments, reduces eye strain, and improves focus. This system-wide feature seamlessly transforms both native and third-party applications, providing a cohesive and immersive user experience. Users can schedule Dark Mode activation, automating the transition between light and dark interfaces. With its introduction, Dark Mode reflects Apple's commitment to customization, accessibility, and user-centric design.
2. Photos and Camera Enhancements
iOS 13 brought a creative revolution to iPhone photography through significant upgrades to the Photos and Camera applications. The Photos app received a sleek redesign, organizing memories into intuitive categories like Years, Months, and Days. Meanwhile, the Camera app underwent innovations such as refined Portrait Lighting adjustments and the artistic High-Key Mono effect for monochrome portraits.
These enhancements not only improved user interaction but also empowered iPhone users to capture and curate moments with unprecedented creativity. In the tapestry of iOS 13 features, the evolution of visual storytelling stands out as a testament to Apple's commitment to enhancing both functionality and artistic expression.
3. Sign In with Apple
"Sign In with Apple" revolutionized user authentication on iOS devices. It offered a privacy-focused alternative to third-party sign-in options, enabling users to log in to apps and websites seamlessly with their Apple ID. By prioritizing user privacy, Apple ensured that minimal personal information was shared, setting a new standard for secure and convenient authentication methods.
4. Reminders App
One of the standout features of iOS 13 was the transformative redesign of the Reminders app. With an intuitive interface and a host of new capabilities, the Reminders app became a powerful tool for users striving to stay organized and on top of their tasks. The update introduced a visually refreshed experience, featuring a new look that made navigating and managing reminders more efficient.
5. Maps Overhaul in iOS 13: Elevating Navigation Precision
iOS 13's Maps Overhaul was a game-changer, refining the Apple Maps app to deliver a more detailed and visually immersive navigation experience. The update introduced intricate maps, offering a lifelike representation of roads and landmarks. "Look Around" brought a Google Street View-like feature, providing users with a 360-degree view of select locations.
Additionally, real-time transit information empowered users with up-to-date details on public transportation, enhancing journey planning. Overall, the Maps Overhaul demonstrated Apple's dedication to not only functional navigation but also a visually engaging and user-friendly exploration of the world through iPhones.
6. Swiping Keyboard in iOS 13
One of the standout features in iOS 13 is the introduction of a swiping keyboard. A game-changer for typing efficiency, this feature allows users to effortlessly compose messages by swiping their finger across the keyboard, seamlessly connecting letters to form words. This intuitive input method not only speeds up the typing process but also enhances one-handed operation.
With this addition, Apple responded to the growing popularity of swipe-to-type keyboards, delivering a responsive and integrated solution for iPhone users seeking a more fluid and dynamic typing experience.
7. Performance Improvements
iOS 13 brought notable performance enhancements, ensuring a swifter and more responsive user experience across all compatible devices. App launches became quicker, and animations became smoother, even on older iPhones.
This optimization showcased Apple's dedication to refining the underlying system, providing users with a seamless and efficient operating environment.
8. QuickPath Typing in iOS 13:
QuickPath Typing, a feature in iOS 13, revolutionizes the iPhone keyboard. Users can now effortlessly slide their fingers across the keys, forming words without lifting. It's a one-handed typing marvel. This intuitive input method enhances efficiency and speed, catering to users who prefer a more fluid and dynamic typing experience. Swift, precise, and a game-changer, QuickPath Typing epitomizes Apple's dedication to user-friendly innovation.
9. Revamped Volume Indicator
iOS 13 redesigned the volume indicator, making it less intrusive. Now, a discreet volume bar appears on the side of the screen, replacing the disruptive center overlay. This minimalist approach provides a more seamless user experience, eliminating the annoyance of the previous volume display. Apple's attention to detail in this aspect reflects a commitment to enhancing user satisfaction and refining the overall interface design.
10. Silent Unknown Callers
iOS 13 introduced a game-changer: Silent Unknown Callers. This nifty feature, a shield against phone spam, does the job seamlessly. No more annoying interruptions – unknown callers get silenced and directed straight to voicemail. It's a silent victory for users, offering respite from incessant calls and ensuring a more peaceful mobile experience. A welcomed addition, indeed.
11. Quick Actions on Home Screen
iOS 13 introduced Quick Actions on the home screen. With a firm press (or a long press on devices without 3D Touch), app icons reveal shortcuts. These quick actions offer speedy access to frequently used features within apps, streamlining daily tasks. Whether sending a message, starting a workout, or capturing a quick photo, users can now navigate their favorite apps with increased efficiency and ease.
12. Siri Improvements
In iOS 13, Siri received noteworthy enhancements. Its voice became more natural and expressive. A new SiriKit for audio apps allowed seamless integration for music and podcasts. These improvements aimed to make Siri more user-friendly and efficient. Users experienced a more pleasant and interactive interaction with Siri, reflecting Apple's commitment to refining the virtual assistant's capabilities and enhancing the overall user experience.
Wrapping Up
In conclusion, iOS 13 brought a range of significant improvements and features to iPhones. The introduction of Dark Mode, privacy-focused Sign In with Apple, and the overhaul of apps like Photos and Maps enhanced the user experience. The addition of swipe-to-type functionality, performance improvements, and a redesigned volume indicator demonstrated Apple's commitment to refining the iOS ecosystem. As always, staying up-to-date with the latest iOS updates ensures access to new features and optimizations for your iPhone.
We'd love to hear your thoughts! Drop a comment below and share your insights on how these features have impacted your iPhone experience. Stay tuned for more updates and, as always, happy exploring in the Apple ecosystem!